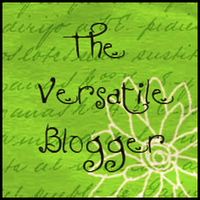 The rules after accepting the Versatile Blogger Award are:
Thank the person who gave the award and link back to them in your post

Share 7 things about yourself

Pass this award along to 15 recently discovered blogs.
Thank you Dear Ricochet, I am truly honored to be bestowed this award! I found your lovely blog through a linky party where you had linked up Reverse Applique technique and have fallen in love with your blog ever since! Have also joined your Retro Pillow Challenge and have invited my readers to do so as well ! This award was a pleasant surprise. My First award was also a Versatile Blogger award given to me by Magnanimous Magda of MagdaMagdaDesignStudio!
Share 7 things about self
Favorite smell - scent of land after rain!

I hate Gossip!
One thing i like the most in me - straightforwardness!
One thing i would like to change in me - Being reserved! i would love to be more confident and socialize more!
Fashion Fetish - Clutches, can't have enough of them
Gadget Love - All Sewing Gadgets! I dream to have a Dressform soon!
Love my blog - and all of you dear readers! Thanks for being here and making my day (s)!
Pin It