I am proud to say that i am also one of the elite group of contributors to the book. I did a variation for the below pattern and used Aaari & bead work in the bodice to give it nice Indian touch. The fabrics were given by Burastyle as per my choice for the pattern variation i had designed! Let the book get launched, then i shall share my pattern sketch!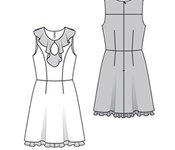 I got a mailer yesterday asking for shipping address so that they can send the dress i made back to me along, now that all photoshoots for the book are complete! guess what i will also be getting a contributor copy of the book, i am so excited, can't wait to get my hands on to it!
Love you Burdastyle!
Pin It